Softub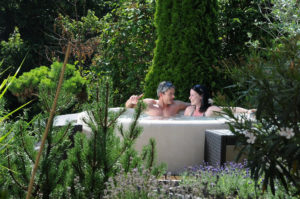 "Because Simple is Better"


Softub is an innovative, durable, and energy efficient portable hot tub. The tub weights less than 80 pounds and can be rolled through any standard door frame for indoor or outdoor use. Unlike Acrylic hot tubs, the Softub does not require a concrete pad, all you need is a flat surface! Click here for the Softub brochure and contact us today to order your Softub.
SOFTUB 140 Sportster
1-2 people: 4 Jets
140 Gallons: 24 inches deep
60 inch outer diameter, 50 inch inner diameter: 5 feet of space
Tub weight: 50 lbs., Filled Weight 1445 lbs.
SOFTUB 220 Legend
1-4 people: 5 Jets
220 Gallons of water: 24 inches deep
72 inch outer diameter, 59.75 inch inner diameter: 6 feet of space
Tub weight: 65 lbs., Filed weight: 2119 lbs.
SOFTUB 300 Executive
1-6 people: 5 adjustable hydrotherapy jets and 2 pulsating jets
300 Gallons of water: 27 inches deep
78 inch outer diameter, 65 inch inner diameter: 6 1/2 feet of space
Tub Weight: 80 lbs., Filled weight: 2725 lbs.
Features one cushioned therapy seat.
Each Softub features underwater LED lighting as well as an array of exterior and interior colors to customize your Softub.
Accessories and supplies
We offer a range of supplies and accessories to maintain and improve your Softub